I've written a lot about empathy. You'll find some links at the bottom of this piece. Today, for Empathy Day 2019, I thought I'd flag some of the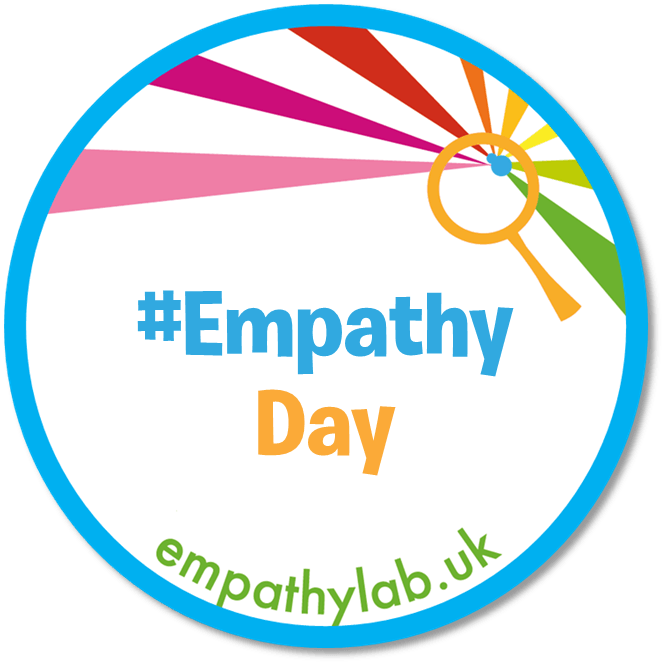 books for young people that I've recommended in Body Brilliant (publishing July 2019). There are all sorts of ways negative body image can affect people, and all sorts of reasons for it. The more we can understand those mental mechanisms, the more we can support anyone we know who suffers from it. But understanding the minds of others is powerful for ourselves, too, regardless of whether there's someone else we're trying to help.
These are my favourites among the many books I've recommended.
Weight/size/disordered eating/eating disorders (and the first two are BRILLIANT new books):
Gloves Off by Louisa Reid (a verse novel – truly wonderful)
Jemima Small versus The Universe by Tamsin Winter
Big Bones by Laura Dockrill
Summer's Dream by Cathy Cassidy
Blubber by Judy Blume
Jelly by Jo Cotterill
Splash by Charli Howard
Misfit (wonderful non fiction/memoir) by Charli Howard, a model whose fightback against the modelling industry obsession with skinniness contributed to the Body Positive movement
I also want to mention here a book I really admired but decided I couldn't include in Body Brilliant for risk of triggering unhealthy eating in those with eating disorders or at risk of them. The Year I Didn't Eat by Samuel Pollen gives a deep insight into the mental processes of (some) people with eating disorders such as anorexia. I believe adults should read it to improve their empathy (via true understanding – cognitive empathy) for people with disorders such as this. I wish I could have included it for a number of reasons, not least that the character is a boy and we need to remember that anorexia is not a female illness; the author himself had anorexia; the story is very well told; and the detail is phenomenal. It's that last point that meant I couldn't include it, after discussion with experts in eating disorders: the focus on calorie-counting (which so many anorexic people use to control their eating) and the various tricks sufferers use to control and disguise were just too likely to be triggering for some readers.
But, for understanding anorexia, adults really should look at this book, perhaps especially if they know a young person with anorexia, though it's an emotionally tough read, so take care. Young people not at risk of eating disorders would also enjoy it and grow their empathy via understanding. But I only offer it with cautions.
Visible difference:
Wonder by RJ Palacio (extreme facial disfigurement) – I hugely admire this book and enjoyed it much more than I expected to
One by Sarah Crossan (conjoined teenage sisters) – as above; I didn't want to read either of these books because I thought they would be too uncomfortable, but they were both so cleverly written and envisaged; I'm very glad I read them and they've stayed with me more than most books do in my butterfly mind
Firegirl by Tony Abbott (facial scarring from a fire) – caution: I don't recommend this is given to a young person with severe facial scarring themselves, as (unlike Wonder) it's told only through the eyes of the people the character meets, and the treatment by those children is pretty intense and hard to bear, but it could help children understand how to relate to another child who looks very different.
Tall Story by Candy Gourlay (extreme height)
Deenie by Judy Blume (scoliosis)
Faceless by Alyssa Sheinmel (facial transplant)
Izzy, Willy-nilly by Cynthia Voigt (amputation)
Gender questioning/transitioning (which is not always linked to body image issues but can be strongly so)
If I Was Your Girl by Meredith Russo
George by Alex Gino
I mention other books that speak about gender questioning or transitioning in Body Brilliant but I feel less confident in actively recommending them as I honestly don't feel I can judge how "right" the depictions are. Those two books above are by people with relevant lived experience and I enjoyed them and felt I learnt from them, so they are the ones I mention here.
There's also the very recent John Boyne novel, My Brother's Name is Jessica, which missed inclusion in Body Brilliant as it wasn't published when I went to print. The book has caused a storm – see here in the Irish Post and then see here for a report of the author's response. Having not read it and also not being immersed in the topic or community myself, I can't judge the book and how well it builds empathy but I'll point out that it's told through the viewpoint of a boy whose sibling is transitioning, and that seems like a viewpoint that's very worth exploring and understanding, as well as the viewpoints of those questioning their own identity.
Anyway…
I hope you enjoy some of those books on my lists! I enjoyed reading them all, whether or not I had any personal experience of the topics. They were well-told stories that made me feel for the characters and built my understanding of the various situations or mindsets they were experiencing. They built my empathy. If we want to understand anything about our fellow humans, we need to read and listen and read and listen, not just to one version but to as many versions as possible. Reading one engaging novel about a girl or boy with an eating disorder doesn't tell us everything about having an eating disorder: it shows us that one person's life with that eating disorder as well as the sibling rivalries, the external and internal pressures, the family situations, the everything of that one character in that one life. We need to read much, much more before we can really connect, before we can really walk a mile in someone's shoes.
Keep reading, keep listening, keep exercising your humanity!
#EmpathyDay
---
Here are those other articles I've written about empathy: